STUDENT CODE OF CONDUCT & STUDENT BILL OF RIGHTS: In August 2019, TCJE and our partners stopped a vote on changes to the San Antonio ISD's Student Code of Conduct because they did not adequately address the school-to-prison (or school-to-deportation) pipeline. We collectively demanded stronger language stating that campus police officers will not get involved in the discipline process in cases that do not involve criminal charges. We also asked the district to take steps to broaden community input on the revision. Superintendent Pedro Martinez agreed that many of the elements we sought would be implemented.
In November 2019, the ISD adopted a Student Bill of Rights as part of a new Student Code of Conduct. It says that students have the right to be informed about disciplinary and use-of-force practices at school and to consistent and equitable discipline practice, among other provisions. It lists recommended practices to respond to student behavior, including mentoring programs, peer mediation, and counseling.
Still, in February 2020, student advocates attended the School Board meeting to ask for less police involvement in school discipline and further amendments to the district's Student Code of Conduct and Student Bill of Rights. Students made 7 requests – including stronger limits on school police, as well as publicly available discipline reports that include the race and campus of students disciplined – which were endorsed by TCJE and others. Members of the SAISD teachers' union stood and spoke alongside the students.
RESTORATIVE JUSTICE: One highly effective alternative to school policing is restorative justice. In February 2020, TCJC – along with the student activists of San Antonio ISD and beyond, PODER, and the American Indians in Texas at the Spanish Colonial Missions – held our first in a series of restorative justice events at the Esperanza Peace & Justice Center. This convening on school discipline and youth justice included a student-led discussion about effective alternatives to harsh discipline policies that impact thousands of Texas students, as well as a panel of scholars who have led the charge in securing student rights in SAISD in recent months.
At the event, we released TCJC's new restorative justice report, and we sought to jumpstart a community-wide planning process for developing and implementing strategies that will reduce the number of students arrested, expelled, suspended, and referred to court for misbehavior incidents at school.
The San Antonio Express-News released an editorial the following month specifically about our report and supporting our recommendations.
SCHOOL DISTRICT POLICE: In mid-2020, San Antonio ISD school board members rejected requests from advocates to disband its police department but pledged to examine disciplinary practices for officers.
Yet still, TCJE and advocates signed on to a letter drafted by IDRA, which, among other, called for divesting from school policing programs, and reallocating funding towards healthier strategies – like restorative justice practices and coordinators, counselors, social workers, nurses, and ethnic studies courses. TCJE's Alycia Castillo and over 100 others also called the ISD with phone message-based "testimony" seeking an end to school policing. San Antonio ISD did affirm a commitment to use restorative practices to create a safe environment for students and adults.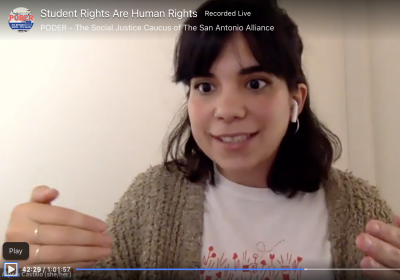 In early 2021, as COVID was still impacting schools and student wellbeing, Alycia Castillo participated in a student-led discussion on student rights, alongside San Antonio ISD students themselves, Dr. David Stovall (Professor of African-American Studies and Criminology, Law & Justice at the University of Illinois at Chicago), and Andrew Hairston of Texas Appleseed. Called "Student Rights are Human Rights," the event was sponsored by PODER, SAISD Student Coalition, and the San Antonio Alliance of Teachers and Support Personnel.