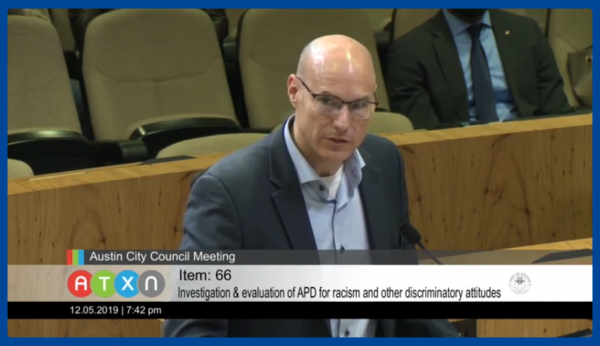 LETTER SEEKING A "NO CALL" POLICY: In late 2019, TCJE signed on to an advocates' letter to District Attorney Margaret Moore requesting that her office implement a "No Call" policy, under which her office would not issue charges, seek arrest or search warrants, or consider cases that rely on the word of law enforcement officers who are found to be biased or dishonest. The letter referenced the senseless tasing of Quentin Perkins, a Black man on his knees, by two Austin Police Department (APD) officers. It also referenced revelations of a ​slow official response to complaints alleging that ​former the APD Assistant Chief used racial slurs for more than a decade, as well as disproportionate arrests of people of color and unnecessary shootings of people with mental health conditions.
CITY COUNCIL RESOLUTION RELATED TO POLICE RACISM: Also in late 2019, TCJE joined other advocates in testifying before Austin City Council in regards to a resolution directing the City Manager to: hire an independent investigator; undertake a comprehensive investigation and evaluation of APD for racism and other discriminatory attitudes, training, protocols, or procedures; and delay the start of new cadet classes. This resolution passed over the police union's objections. TCJE's Doug Smith specifically testified about our data findings related to "stop-and-frisk on wheels."
LETTER CALLING FOR CHANGE IN LEADERSHIP: In April 2020, following APD's fatal shooting of Mike Ramos, an unarmed man of color, TCJE signed on to a letter drafted by Austin Justice Coalition calling for a change in leadership specific to Police Chief Brian Manley, APD Chief of Staff Troy Gay, and Assistant City Manager Rey Arrellano; it also requested an independent investigation into the shooting, as well as a delay in the June 2020 Academy class and immediate implementation of training reforms to ensure that cadets are adequately trained in de-escalation as part of all use of force and scenario training.
WITHDRAWAL FROM GRANT PROCESS: TCJE and various partners also withdrew from a local grant proposal process involving APD, which sought federal funding for a diversion program for people with drug offenses, but which reinforced the police department's unproductive philosophy towards people with substance use disorder.
TESTIMONY ABOUT POLICE VIOLENCE & APD BUDGET SHIFT: In June 2020, following the killing of George Floyd by police in Minneapolis and nationwide protests against police brutality, including in Austin, TCJE staff and hundreds of others testified before the Austin City Council at an emergency hearing on related to police reform.

The following week, the Austin City Council voted unanimously to shift funding from new and vacant officer positions to mental health services, conduct audits of police misconduct, prohibit the use of tear gas and choke-holds, limit the use of deadly force, and take action to reduce police killings, as well as reduce racial disparities in stops, citations, and arrests. The Council also stated a "no confidence" vote in police leadership, and two Council members asked the police chief to resign.
In August 2020, the City Council agreed to immediately shift $21 million in funding from the Austin Police Department budget to address various needs, including homelessness, domestic violence, mental health, and substance use. Another $80 million in police functions will be moved to civilian control, like the 911 call center, the crime lab, and internal affairs. Finally, the city is taking community input on an additional $50 million in police functions to determine if they should be moved to other agencies; these include activities that sworn officers currently handle for the city but may not need to.