KXLN had the highest percentage of neutral coverage among Spanish-language stations, at 92 percent. No articles from this station were coded as positive or balanced, and only about 8 percent were negative. Articles run by KXLN on this subject were found from November 12, 2020, to June 27, 2021, and totaled 13. Of these articles, 1 was primarily about bond reform while 12 were primarily about defendants.
The 1 article primarily about bond reform did not specify the type of bond being discussed, risking conflation of reforms among its viewers.
Black defendants were not over-represented relative to the 20 percent Black population in Harris County; however, 92 percent of all "defendant" articles include a mugshot. Forty-two percent of defendants were allegedly involved in homicide cases in some way—indicating that these types of cases are likely over-covered.
Law enforcement was referenced in 9 total articles, making it the most common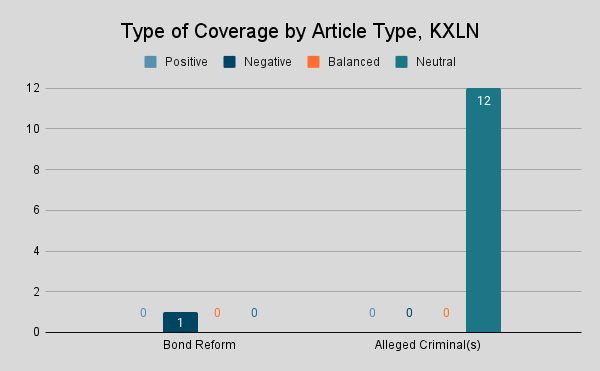 reference for KXLN, with 1 article coded as negative. Neither Crime Stoppers nor police unions were referenced. The Harris County District Attorney's Office was referenced in 14 articles, with 1 coded as negative.
_________________
This station report is part of a larger analysis of bias in media coverage of bond reform in Harris County. Read the full report, and see evaluations of other stations: KPRC (NBC affiliate), KTRK (ABC affiliate), KHOU (CBS affiliate), KRIV (FOX affiliate), and KTMD (Telemundo affiliate). You can contact KXLN to request unbiased coverage through their website.